SS304 Ozone UV Sterilization System 3000LPH Water Treatment Plant For Cosmetic/ Dialysis/ Drinking
Our main product is RO system water purifier machine what we can do is to help changing such as seawater, brackish water,underground water and tap water atc...into domestic water, irrigation, direct drinking or bottle drinking(pure/mineral/alkaline water), industrial water: boiler water, hospital usages, beverage usages atc...
This water treatment system uses mechanical filters, activated carbon filter as a pre-class treatment, the effective removal of suspended solids in raw water, sediment particles , organic colloids, organic matter, odor, chlorine and other impurities, with pre-programmed as a reverse osmosis desalination plant to remove the raw water. Most of the dissolved salts, bacteria, hot stream and so on, to ensure finished water quality standards.
If raw water conductivity is less than 300uS/cm, first stage output is less than 10uS/cm, two stage output is 2uS/cm.
| | |
| --- | --- |
| Product Details | Application |
| KYRO-3000LPH ultrapure water system | • Homes and Villas |
| 1. Capacity: 3000L/H | • Hotels/Hospitals |
| 2. Rated power: 4.0KW/H | • Commercial Complexes |
| 3. RO System Rack Size: 2440*620*1850MM | • Kindney Dialysis Unit |
| 4. Desalting rate:>=97% | • Poultry Farms |
| 5. Water recovery rate: 50-75% | • Food and beverages industry |
| 6. Voltage: 380V 50Hz 3phase | • Bottled water plants |
| 7. RO membrane: DOW BW30-400 | • Cooling tower /Boiler feed water |

Process: Untreated water feed pump →Quartz sand filter→ Active carbon filter → Security filter → 1st stage high pressure pump →1st stage RO system→2nd stage high pressure pump→2nd stage RO system→UV sterilizer→output supply point
Some parts function:
Quartz sand filter: fill quarts sand inside, it can filter big particles impurities, suspended substances, colloids etc.
Activated carbon filter: fill activated carbon inside, to remove color, odor, residual chlorine and organics substances.
Security filter: fill PP filter cartridge inside, prevent large particles, bacteria, viruses into RO membrane, accuracy is 5um.
RO membrane: can remove particles, colloids, organic impurities, heavy metal ions, bacteria, virus, heat source etc. harmful substances and 99% dissolved salts.
UV sterilizer: for killing bacterial in water, be safe for drinking.
CIP system: its help to cleaning the RO membrane, so that it can be have long life span^^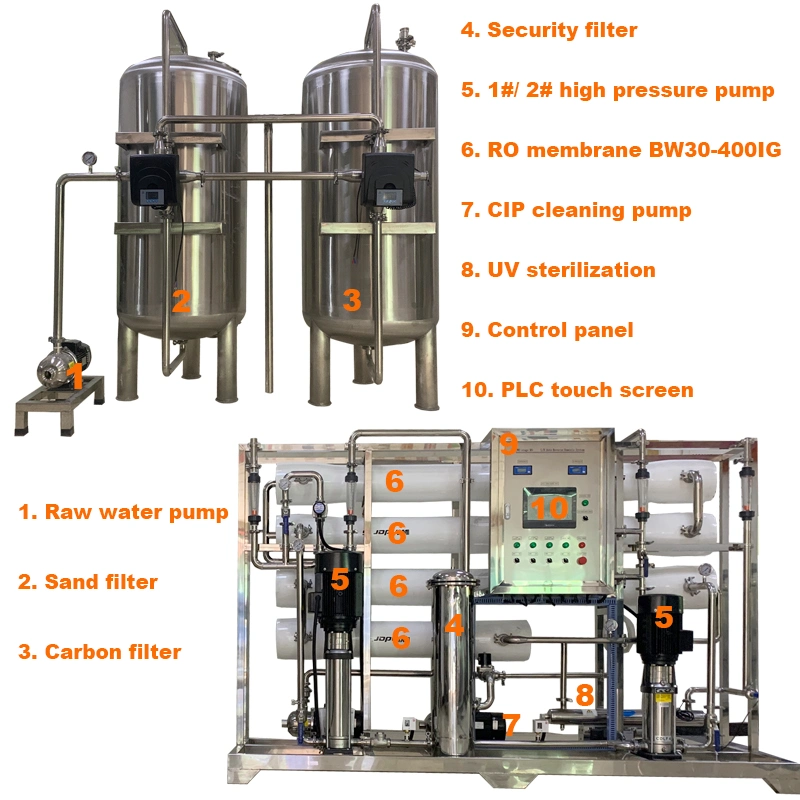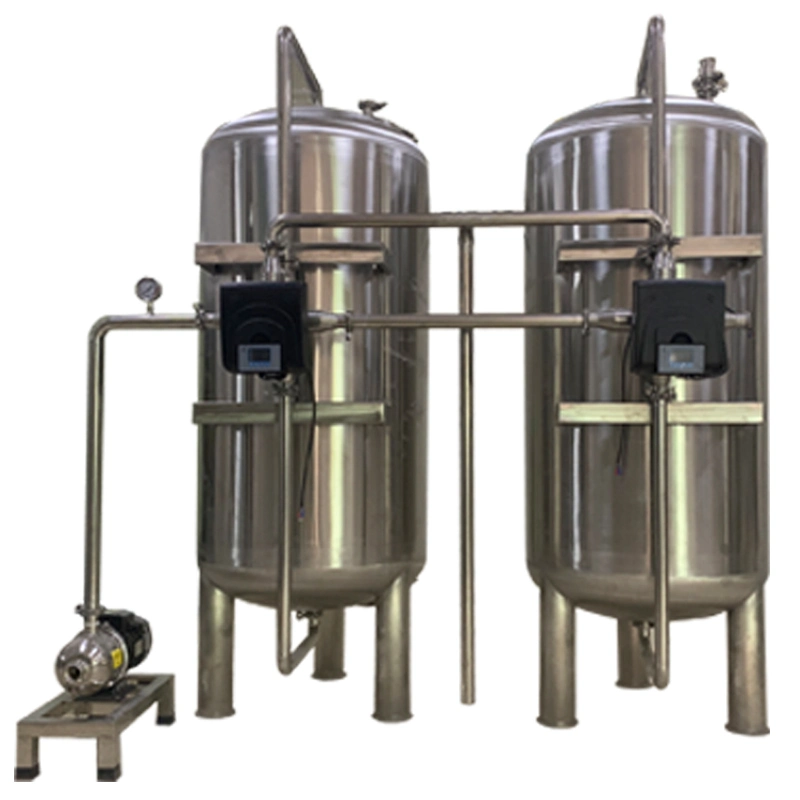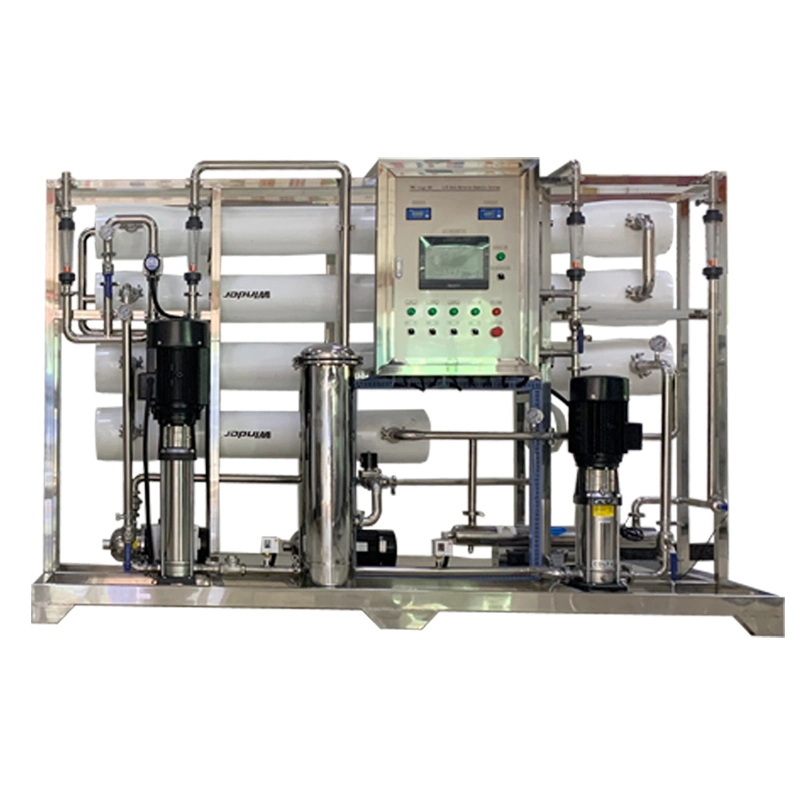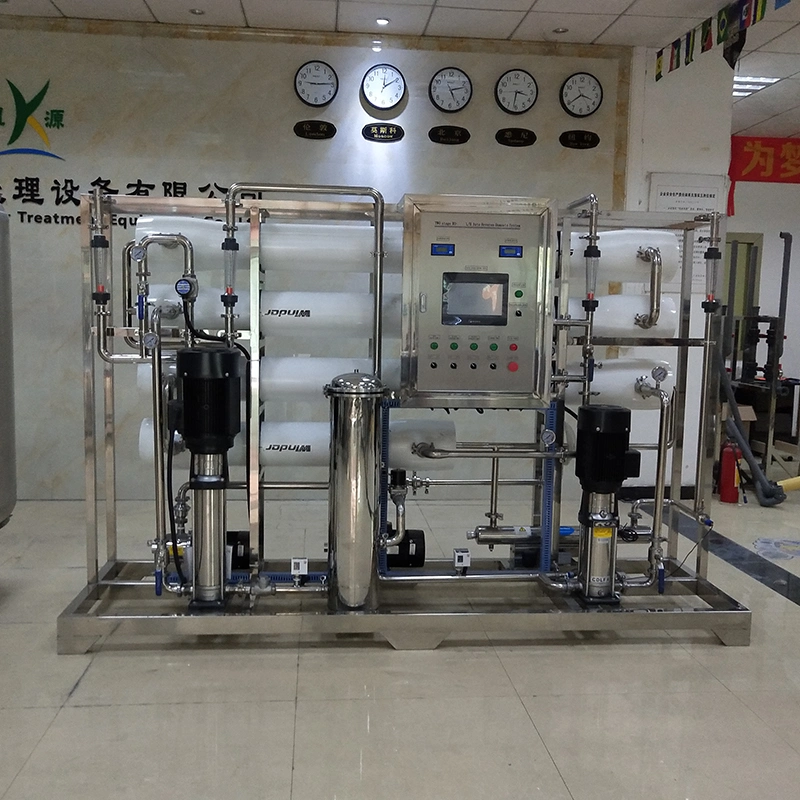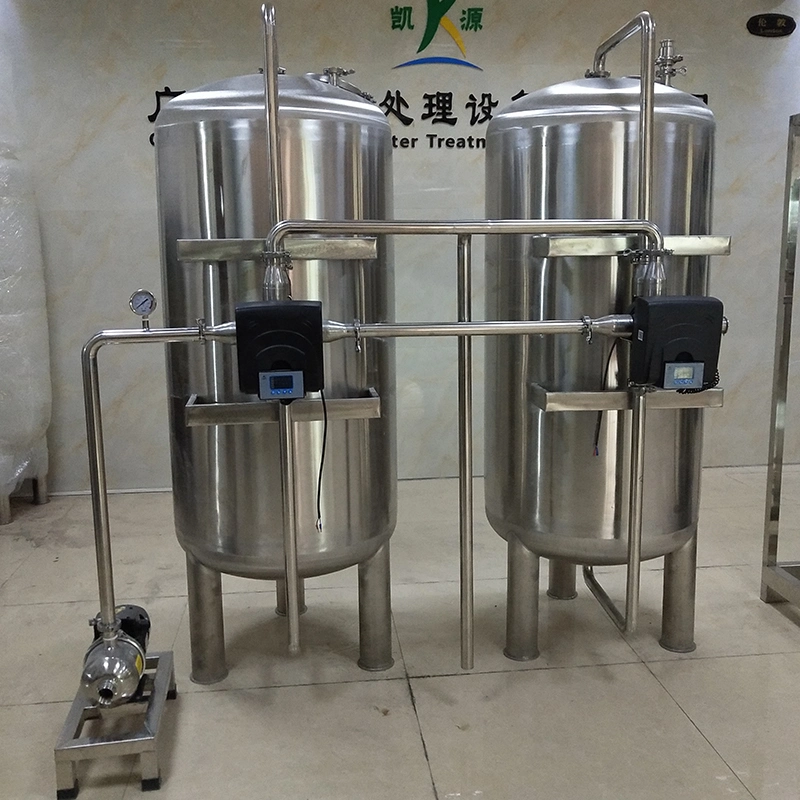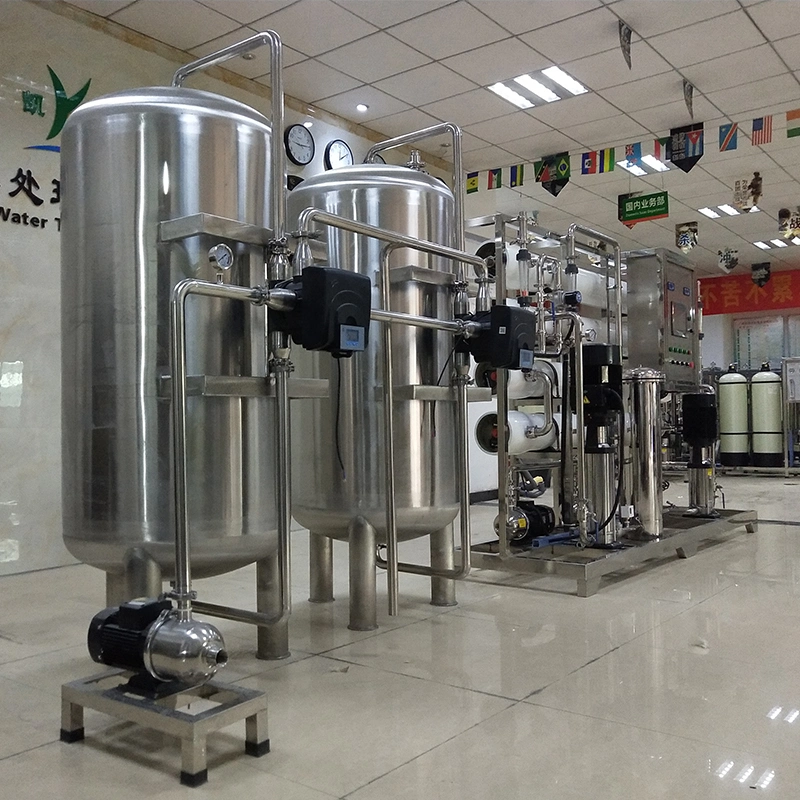 Thank you so much for your value time.Any questions please send us inquiry!


Guidelines for getting a proper quotation
Tell us the raw water/source of water
Provide water analysis report if possible
Required production capacity( 500 liters per hour, 1000liters per hour…)
What's the pure water used for( drinking, bottle water or industrial use…)